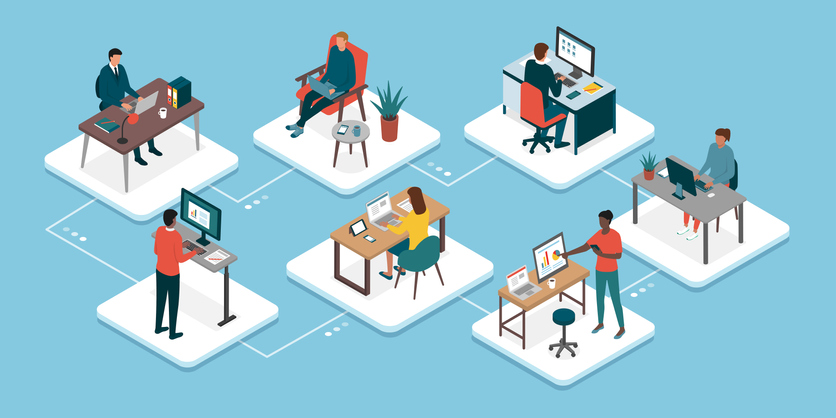 20 Aug

Everything you need to expertly manage your hybrid workforce

The pandemic forced many of us to press the fast forward button on the adoption of a hybrid workforce. The unique circumstances meant many businesses had to scramble to connect teams and work effectively from home, with little or no notice.

During this period, we are proud to have helped many of our clients transition from a traditional to remote workforce, and we continue to provide support as many embrace hybrid working as the norm.

How can you make sure your staff have everything they need to work effectively in a hybrid environment?

In this post we have brought together everything you need to expertly manage your hybrid workforce, from hardware and software, to connectivity tools, to ideal employee behaviours and a few things in between.
Looking after the physical and mental health of your teams
In a hybrid working model, an employer's responsibility extends outside of the office to their employee's homes. They need to ensure that alongside all the necessary IT requirements, their physical and mental health are also looked after.
Educating your workforce on best practice and behaviours
When employers and managers spend less time with their teams there's a danger they assume all users have a firm grasp and understanding of best IT practice because hybrid working sees a greater emphasis on individual responsibility. There's enormous value in taking time to educate your employees on key fundamentals and ensure they understand what their responsibilities are. This can maximise productivity and avoid potential risk.
Connectivity tools for hybrid working
Making sure you have the correct hardware, software, and connectivity in place for your business is critical to enabling your hybrid workforce can operate effectively.
When expert and external IT management makes sense
Safeguarding your digital workspace and all the data it holds is vital. Data is essential for most businesses and secure, easy access is crucial for a healthy workflow but managing it can be risky without the right knowledge and expertise.
How we can help 
We've been in business for over 25 years, delivering expert IT support and technology services to our clients.
We have helped countless businesses streamline the systems, communications, and connectivity of their hybrid workforces. Our experience and industry knowledge enable us to ensure each business leverages the best from its technology.
Hybrid working is here to stay. Making sure you are employing the best tools and support for your business to remain connected and efficient in this new landscape will be crucial to success.
If you need help about any aspect of managing your hybrid workforce, just get in touch. We'd love to help.