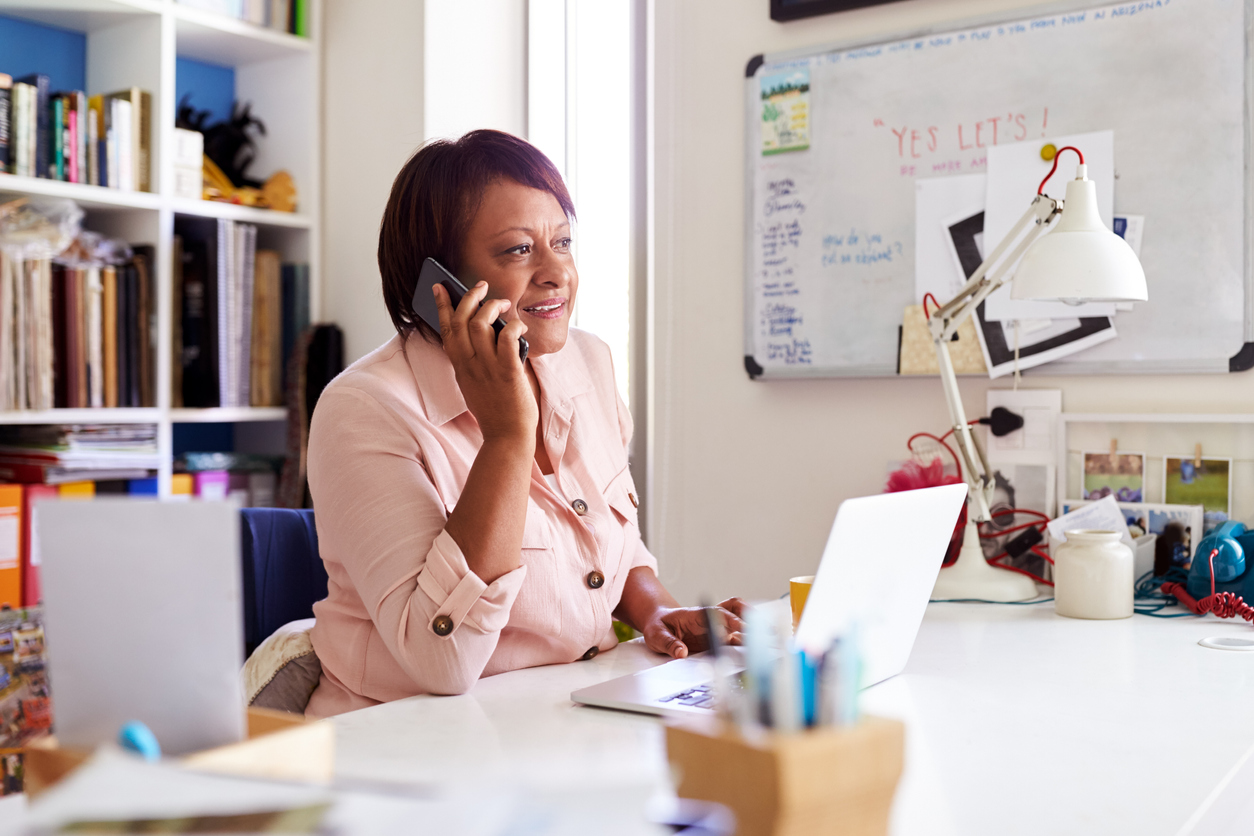 07 Apr

How To Work From Home Effectively

As social distancing continues, we know many of our clients are trying to work out how to set themselves up better at home so they can be as productive as they would be in the office.

When you work from home occasionally, it might be okay to make do with a space at the kitchen table and a Skype account. But remote working every day over an extended period is a different matter.

In this post, we'll outline the best programs to use to connect effectively with your colleagues and customers, plus how to set up your work environment to make sure you're maximising your productivity.

So, make sure your kids are occupied, your notifications are off and Netflix is sleeping! Read on to find out how best to set yourself up for successful remote working.

Stay Connected

In order to be successful working from home, it's crucial to stay connected to colleagues and customers.

When you're used to working in the same building, or at least meeting frequently face-to-face, working in isolation can be an adjustment. It's vital to stay connected to ensure you're all on the same page and work isn't being duplicated. For many of us, it's also important for motivation.

In the current economic climate, staying connected with customers is even more important. People are feeling isolated right now, and businesses that deliver excellent customer service are the ones that stand out.

There are so many programs available to help you stay connected, the choice can seem overwhelming. Many businesses are coping with a hodgepodge of Zoom or Skype for video calls, WhatsApp and Slack for messaging and sharing work through Google Drive or Office 365.

To streamline your business, we recommend MS Teams and Sharepoint. MS Teams enables you to keep all your communications including chat, email, video calls and meetings in one place. Integrating with Sharepoint enables you to keep all documents together and even work on them simultaneously. Our clients find this a game-changer. They say it's much easier to keep track of information because it's all in one place, it's easier to keep up to date as everyone receives updates at the same time and it's easier to stay focused because you aren't constantly getting distracted by a full in-box.

See related: The Benefits Of MS Teams For Small Businesses

Set Up Your Workspace

As well as setting up your systems for success, it's also important to make sure your workspace is optimised for productivity. We asked some of our clients who work from home all the time, what they recommend as their top 5 productivity tips.

1. Set up a dedicated workspace. While it's tempting to fire up your laptop from the sofa, creating a workspace in your home will increase your productivity. Not only will you find it easier to focus, you'll also benefit from being able to step away from work at the end of the day. One danger of working from home is never fully switching off. Having a dedicated workspace makes it easier to set a boundary between work and home time.

2. Get dressed! It's easier to be motivated to work if you're dressed for success. It also makes you appear a lot more professional to colleagues and customers. Most of us relax our dress code a little when working from home – especially the bottom half, that can't be seen on video calls! – but looking good helps us to feel good, and perform better.

3. Be smart about time management. Depending on your business, it might be possible to be more flexible in your hours of work than you would be if you were in an office. This is particularly important if there are times in your day when it's difficult to concentrate at home. For those of us who are homeschooling right now, trying to work while helping your kids with their schoolwork can be difficult and frustrating. Take a look at your schedule creatively. Can you move your day around so you can work at times when it's easier to concentrate?

4. Exercise regularly. You might also be able to use your new-found flexibility to build time into your schedule for exercise. It's really important to keep your body moving as being chained to your desk all day is bad for you both mentally and physically. Set yourself a goal to exercise for a minimum of 30 minutes every day and see what a difference it makes to your mental and physical health.

5. Use productivity tools. Once you get used to working from home, it's possible to be even more productive than you would be in the office because you are in control of your availability. There are many productivity tools and apps to help you. One of the best and simplest ways to increase your productivity is to switch off your notifications and set times on your schedule to check your messages instead. It's amazing how much more you can get done when you're not distracted by email.

We've been in business for over 25 years, and during that time have helped countless businesses set up systems to facilitate remote working. If you need help streamlining your business communications and connectivity, get in touch. We'd love to help.