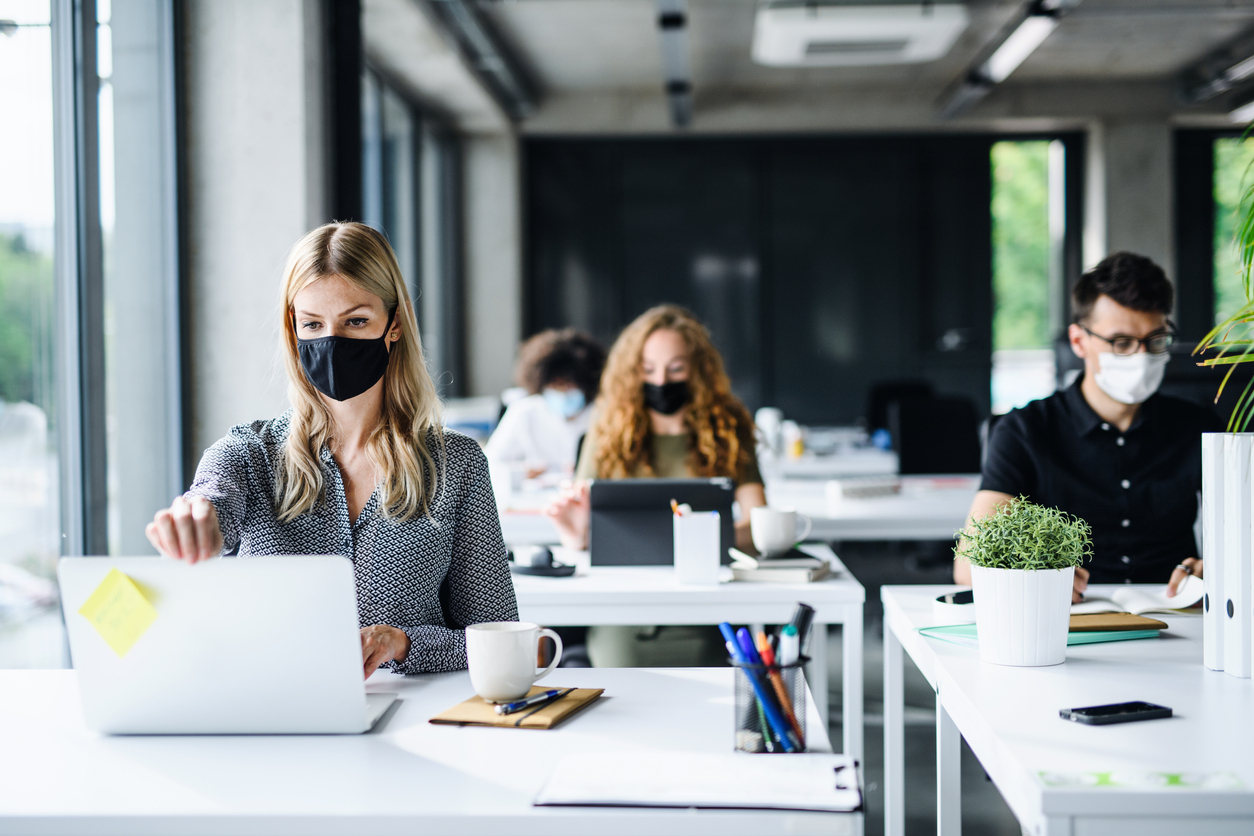 14 Sep

Is Your Office Technology Ready for Returning Staff After Lockdown?

Following the end of lockdown, many employees are slowly returning to the office.

There is a lot to consider to ensure your workforce is safe during the pandemic. It isn't just social distancing that businesses must worry about. With such a long time away from the office, your technology will require reviewing and updating to ensure both staff and cybersecurity are safe and up to the task at hand.
Update Your Office Tech for Returning Staff
While employers might be consumed with getting the physical aspects of the office Covid-ready, don't forget your technology. It has likely been idle for an extended period. To avoid issues, make sure that you;
Check apps for required updates: Don't slow down workers who are readjusting to office life with out of date essential apps.  

Update your anti-virus and run checks: Check your anti-virus software is up to date on all machines before the big return. 

Run hardware diagnostics – With computers and equipment unused for so long, you should have IT support run checks on the health, speed, security and performance of all devices prior to employees using them. 

Review current operating systems on all work devices – Has a new operating system been released? Make sure all devices are on the latest operating systems. 
Order more hardware NOW – Social distancing must be maintained, and devices should not be shared. You might need to order more hardware to ensure safety. 
 
Dispense with physical paperwork – Eliminate the touching of physical objects by not printing paperwork, keep it digital if possible.
 
Prep the HR department – With fear, constantly changing rules and advice, complaints and reporting could become rife if employees feel unsafe.
 
Install cubicles – Open plan offices can create greater spread of the virus.
 
Ventilation –Computer fans can blow dusty unclean air around and transmit virus particles. Open windows and fans can aid ventilation, but recycled air is dangerous.
Arrival and departure staggering – Stagger how many staff are in the offices and the times they arrive and leave to avoid busy corridors.

Onsite rotation planning – If certain hardware, equipment or devices must be shared in your industry, develop a rotation plan for the use and cleaning of devices. You should also plan safe working area rotations for assigned staff .

Deep clean – Employ accredited and experienced commercial cleaners familiar with Covid 19 regulations to frequently deep clean the offices after staff use.

Communicate with outsourced services – If you're concerned about uninformed cleaners damaging computers or specialist hardware or unplugging devices during a clean, plan a distanced or virtual meeting with them to voice concerns, and see how problems can be avoided on both sides.

Assign a Covid 19 Control Plan Coordinator – Assign a person or team to oversee the Covid safe processes, including tech updates and reviews.
Keep staff informed – Collect all Covid-19 safety guidance in one place for easy digital access, so all staff can stay up to date on safe distancing, how to collaborate using tech with both in-house and remote teams and how to ask for help.
Have You Got the Right Software for Remote Workers?
Depending on the nature of your office setup, you may now be looking at a mix of some staff returning to work in-house and other workers continuing their roles from home, or only coming in part time.
Remote workers can be just as good as in-house staff if you give them the right tools.
Utilise Microsoft Teams for better collaboration – Easy workplace chat, video meetings, cloud file sharing, more storage and integration with Office 365. 
 
Give remote workers access to Office 365 – It provides increased productivity apps and security. 
 
Ensure remote staff have access to and install business level anti-virus – Don't trust the level of security offered by personal device anti-virus software. Give remote workers access to business software and help them install it. 
  
Invest in productivity management apps – Sign up for remote working tracking apps. 
Use task management systems – Enable excellent collaboration between in-house staff, managers and remote staff.

Schedule regular video meetings with remote staff – Get feedback on current software and policies to help staff work effectively.

Have dedicated IT support – For in-house and remote workers during the pandemic.
Have ALL Staff Remain Vigilant for Phishing Scams
Fear and challenging times give ample opportunities for scammers to manipulate people. With staff spread across in-house and remote working, it is easy for them to let their guard down. Phishing scams have increased dramatically in volume since the pandemic outbreak.
Remind anxious and distracted employees of the dangers of phishing scams and what to look out for, even on their personal devices. Multi-factor authentication is simple to install and use for all workers wherever they are.